Traditional Mole Catcher in Cheshire
( Holmes Chapel and Knutsford area)
Tel: 07795 197718 Email: [email protected]
Hello there. I'm an independent, traditional molecatcher in the Holmes Chapel area. Whether you have a couple of molehills on your lawn or dozens in a paddock, I can usually get rid of the moles in a few days.
Because I will need to visit your site several times, I work in a relatively limited area to keep my charges moderate. Please call to see if I cover your address. If you prefer to send a text, please include your name and where you live.
I offer a friendly, personal service, based on -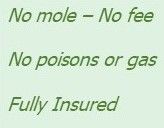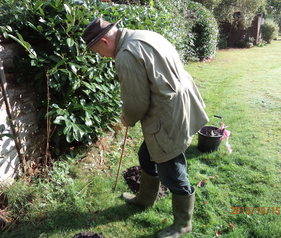 How I work
After giving you a no-fee assessment of your mole problem, I will set the appropriate number of traps, which I will check regularly. When I find a mole I will remove it and reset the trap. I will leave all the traps in place until about a week after the last sign of activity. Do read about traps on the Mole Catching page.
I charge a higher fee for the first mole caught and then a flat fee per animal.
And the moles? I will usually present any moles I catch for you to witness, but I'm happy to make other arrangements if you have more sensitive members of the family to consider.